We have sown one of our autumn/winter cover crops to improve soil fertility and get some more organic matter into the soil to help the spring crops that are going into this plot.
We desperately need some rain to help the germination and avoid having any bare ground. We have followed Gabe Brown's mantra for cover crops "Experiment – more is better" and sowed 12 species in this plot (some of which you can clearly identify in the next image):
Oats
Wooly Pod Vetch
Sub Clover
Fenugreek
Lucerne (Alfalfa)
Lemon Coriander
Coriander
Sugar Beet
Mangel Wurzel
Lupin
Lovage
Brassica napus mix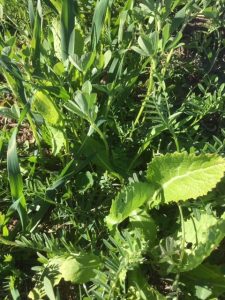 Now we are looking forward to spring so we can cut the cover crop, mulch back into the soil and start planting our production crops for 2019/2020. It is a circle without end.